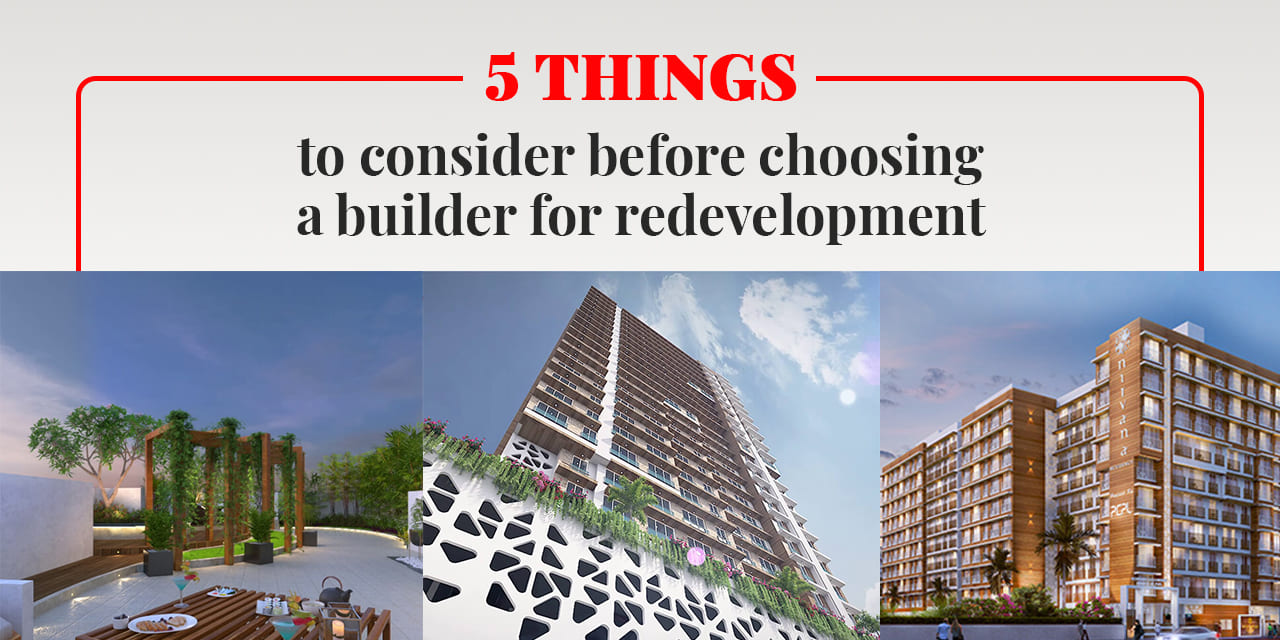 5 Things to consider before choosing a builder for redevelopment
In overpopulated cities like Mumbai, redevelopment has become an essential part of real estate. Due to the scarcity of land and the skyrocketing cost of real estate, many housing societies are turning to redevelopment. However, before engaging in property redevelopment, it is necessary to assess the information about a Redevelopment Builder you are going to work with.
Selecting the correct redevelopment builder is essential if you want to invest your lifetime earnings in a safe location. The contributions of builders and developers to the rising real estate market are particularly important. 
Here is a list of 5 Things to consider before choosing the builder for redevelopment:
Visit their website to perform a background check on the builders. Make sure your builder has a track record of accomplishments in your city. Ask your friends and relatives for recommendations, check the reputation of the builder, and obtain copies of the work's approved plan. Make inquiries about their completed, current, and upcoming projects.
The Builder must guarantee prompt completion and possession of the property as promise. Depending on the size of the land, a redevelopment project may take two to three years to complete after work on the site begins. However, after receiving the occupancy certificate, the Builder will be obligated to pay the rent until he delivers the new property.
Experience of the builder
This is a must-check before finalizing a builder for redevelopment. A builder should have been in this field for several years. The more experienced the builder the more progressive the process will be. It is very important to hire a builder with a good experience and track record for your redevelopment project.
Quality check

The Builders are responsible for ensuring top-notch materials and expert workmanship. It is important to adhere to the Development Agreement's standards as well as the RERA's legal obligations. Along with the normal competent structural engineers and architects, proper technical supervision on site should be made by trained and experienced technical employees.
Safety is a must thing for any kind of construction work. Work on construction projects should be done with extreme caution. It implies that the standards for building construction should be followed in terms of work quality. Additionally, it must maximise the buyers' investment.
Before finalizing a Redevelopment Builder, it is essential to check all these things to have successful project completion. If you are Looking for Flats in Mumbai to buy or a builder for the redevelopment of your society then connect with PCPL. We deal in real estate properties and have a huge experience in this field.