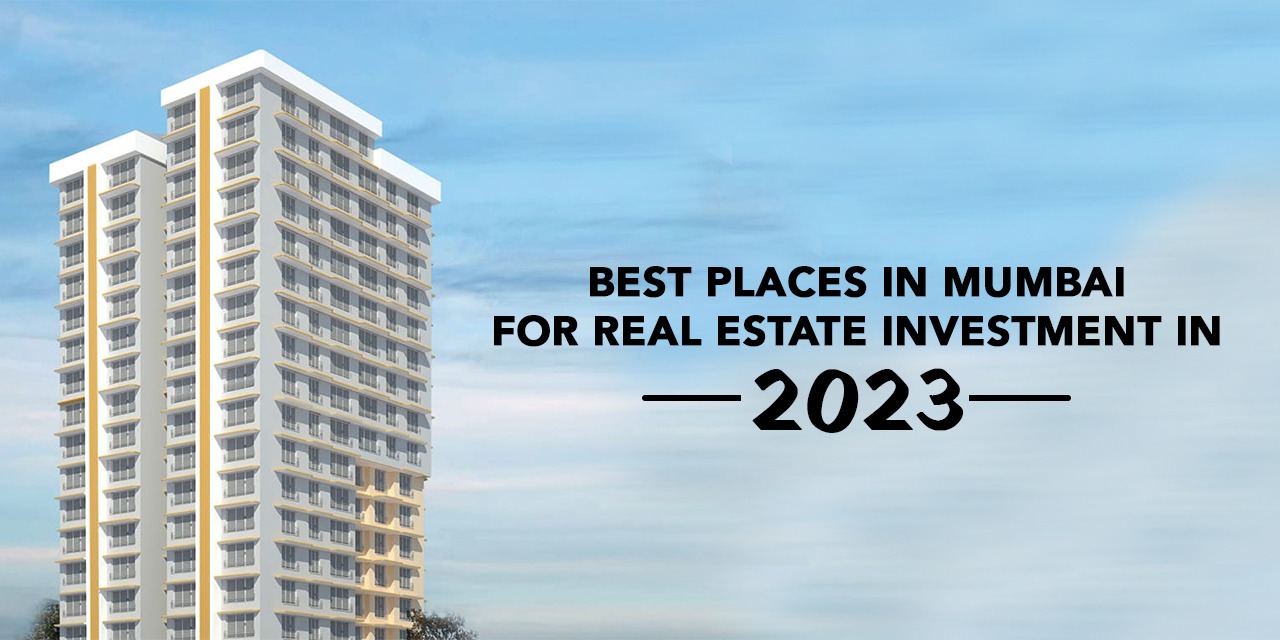 Best Places in Mumbai for Real Estate Investment in 2023
Mumbai is a dream city for everyone. People come here with so many dreams and do all the effort to stay here forever. Mumbai real estate is growing day by day and investment is becoming a major part of real estate.
Mumbai is the financial capital of India and undoubtedly everyone wants to invest in this fast-growing city. Attracting visitors from all over the world, Mumbai is best recognised for its exceptional municipal facilities, well-developed social infrastructure, and a plethora of job prospects for those looking to invest in Mumbai.
Here we are highlighting some of the best areas for real estate investment in real estate. Have a deep look.
The best places for real estate investment in Mumbai include Malad, Borivali, Goregaon and many more.
Malad:
Most working professionals prefer Malad as the house destination as it offers comfort to them in terms of everything whether it's transport or basic life facilities. Furthermore, several marketplaces are within walking distance.
Malad East, like Malad West, benefits from several connection advantages. However, Malad East is less expensive than its equivalent. We have several projects going on of 1 & 2 bhk flats in Malad. Do check out and visit if you are looking for one.
Borivali:
The housing hub in Borivali provides upper-middle-income residential flats. The Western Suburban Railway Line connects the area to the rest of Mumbai. Moreover, the Chhatrapati Shivaji Maharaj International Airport is about 20 kilometers away. 
Major employment centers such as Nirlon Knowledge Park, Nesco IT Park, and Infinity IT Park are all within 15 kilometers of Borivali West, plus the presence of numerous malls and retail hubs makes it a popular residential area. Within a three-kilometer radius, the availability of cabs, vehicles, and buses enables easy access to retail malls, hospitals, schools, banks, and parks.
We have ongoing projects of 1 & 2 BHK Flats in Borivali. Do pay a visit if you are interested in buying one. 
Goregaon:
Goregaon is conveniently located between Andheri and Borivali. Goregaon is a popular choice for individuals looking for affordable housing in Mumbai. It connects to the Jogeshwari-Vikhroli Link Road (JVLR), the Western Express Highway, and the Chhatrapati Shivaji Maharaj International Airport.
Its proximity to the commercial belt as well as the well-known Film City drives rental demand. Although the rates in the neighbourhood are slightly more than in other neighbourhoods, it is a fantastic choice for Mumbai real estate investment.
Our 1 & 2 BHK Flats in Goregaon projects would be a good fit for you if you are looking for a house in Goregaon.
While these places provide residential units at the best costs, ensuring better returns in the long term, it is recommended to make site visits and properly inspect the property before proceeding with the sale.