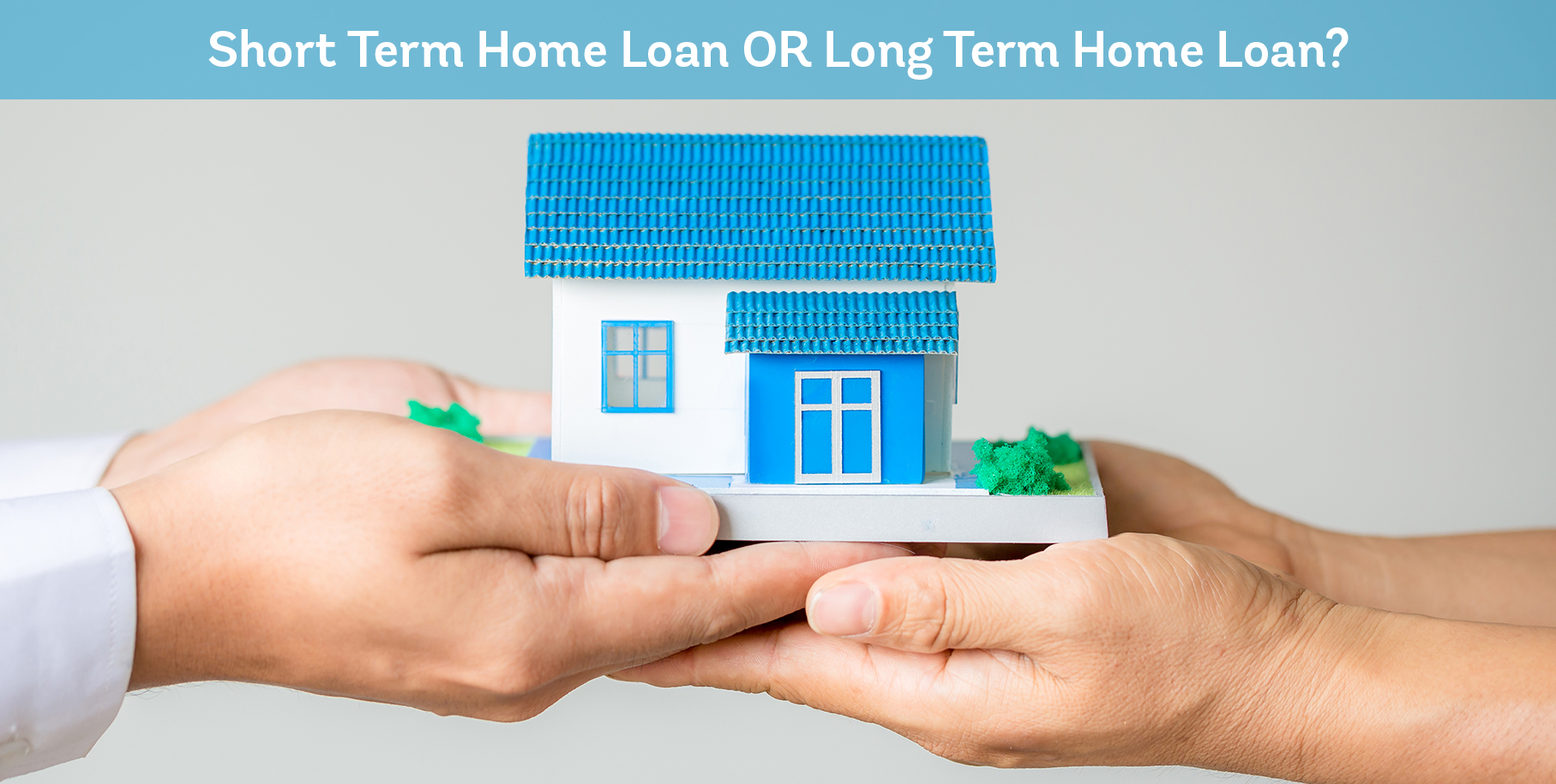 Home Loan Tenure: Short Term or Long Term? Which is the Best Option?
Planning to buy your dream home is a big move. You need to be financially sound to be shortlisted for a home loan. Banks and financial institutions apart from assessing the financial condition of the borrower, also take into account some other parameters, such as the age of the borrower, loan tenure, objectives, and so on.

Two Types of Loans
Financial institutions and banks provide two types of home loans, i.e., short-term and long-term home loans. Eventually, it's your decision whether you want to opt for short-term or long-term home loans. A borrower needs to be careful when selecting a home loan. To help you out, here is a comparative analysis of a short-term and long-term loan.
Short Term vs Long-term Home Loan
Short-term loans last for up to 5 years; whereas long term loans range from 5-30 years and even more. People should opt for short-term loans if they are financially strong enough to repay the amount within a short time. Similarly, one should opt for long-term loans if they want to increase the home loan eligibility criteria.
Short term loans come with a low-interest rate; whereas long-term home loans come with a high-interest rate.
EMIs associated with short-term loans are always high; however, it's not the case with long-term loans. EMIs are low with long-term loans.
Arriving At a Decision
Still, confused? Don't know if you need a short-term loan or a long-term loan? To help you reach a decision, here are some pointers that must be looked at. They are:
Interest Rate
Against your home loan, the interest rate is applicable. The interest rate greatly affects the decision of the borrower. In contrast to long-term home loans, the interest rate for short-term home loans is low. While applying for a home loan, you should check whether the interest is a fixed one or floating. For fixed the interest rate stays the same regardless of the market rate; whereas for floating interest rate it keeps changing with market trends.
Interest Cost
The major consequence of home loan tenure is on the interest cost that needs to be incurred. If the repayment tenure is long, the interest cost gets high. Similarly, if the repayment tenure is short, the interest cost remains low. After all, the cost depends on the applicable interest rate.
Mortgage of Property
A home loan is a secured offering. Hence, the property would be mortgaged until the total loan amount is repaid. Longer the tenure, longer the property would be mortgaged with the bank.
EMI Amount
Home loans need to be repaid in installments. A borrower should opt for an EMI option that they feel comfortable. For a short-term home loan, remain prepared to pay a very high EMI. But for long- term loans, remain prepared to pay a low EMI. One should go for a short tenure, provided, they are comfortable with the EMI amount.
Before opting for a long-term or short term home loan, the borrower needs to take a look into the terms and conditions associated with the loan. For instance, the time by which the entire amount must be repaid is mentioned. However, depending on the financial institution you have selected, the maximum and minimum tenure of repayment vary. Hence, a borrower, depending on their ability to repay should opt for the loan tenure.