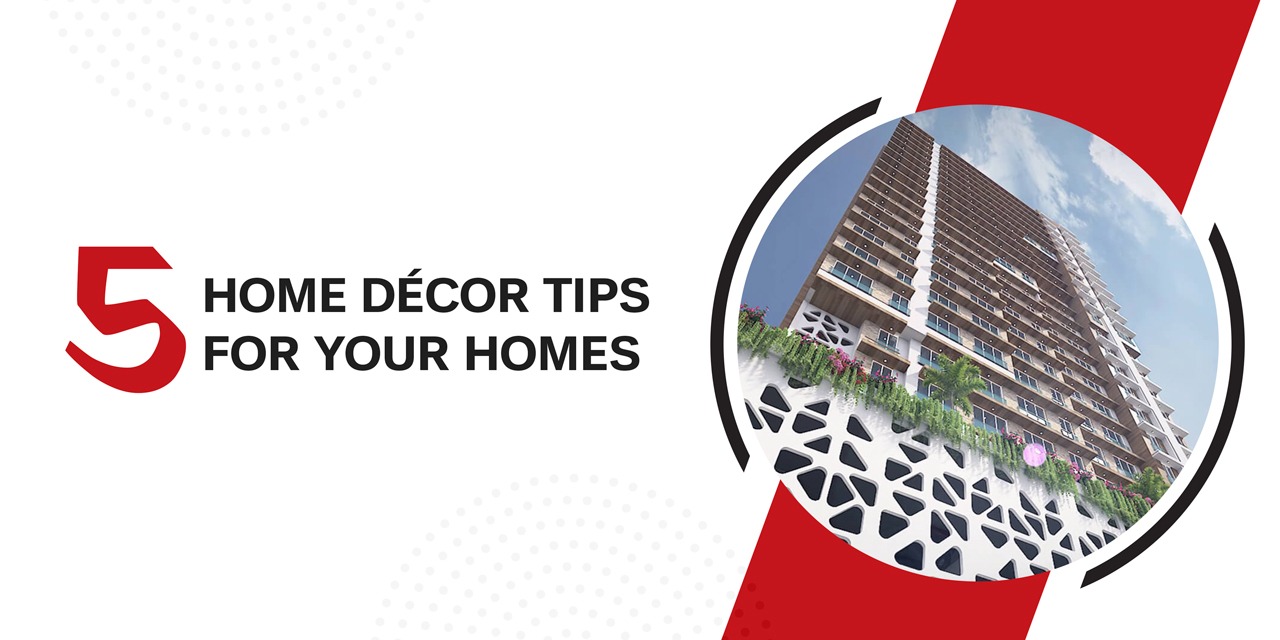 5 Home Decor Tips for Your Homes
Moving into a new house is one of life's greatest joys, but it comes with a little anxiety, particularly when it comes to decorating. How do you make your place appear great while also reflecting your personal style? If you do it correctly, you will be able to have a pleasant and happy house.
If you prepare ahead and use the same procedures as seasoned interior designers, you'll have a far better chance of success. Let us provide you with some Home decor tips for creating the ideal balance of furniture, colour, and other elements in your home.
Focus on the furniture:
Your furniture should, first and foremost, be comfy and functional. However, furniture provides an excellent opportunity to create a dramatic design statement.
Statement furniture is a classic design strategy that can radically transform a room. Combining a large colourful sofa with a thin-framed coffee table or a bulky armchair with a little thin-legged stool is a good idea. Whatever furniture combination you choose, make sure there is some variance in proportion and dimension.
Paint Walls with Light and Neutral Colours
If you like minimal colours then keep the colour scheme neutral by sticking to beige or grey. Neutral walls offer the most decorative flexibility because they make it easy to switch up your accessories.
Furthermore, giving neighbouring small rooms the same neutral colour helps them appear larger. We advise moving one or two shades up or down on a paint strip to create minor variations from room to room.
Create a proper lighting plan.
Lighting plays an important role in the overall appearance of your house. Make the most of natural light to accomplish the same result without a complex lighting design.
A multi-layered lighting design will improve the appearance of your house. In addition, he advises replacing an outdated lampshade or wall light if your home decor needs a simple update.
Accessorise walls with decent pieces
Few things look more absurd than hanging small pieces of art too high on the wall. The centre of the wall should have a picture hung at eye level. If one person is short and the other is tall, take an average of their height.
Don't forget to take scale into account. If your wall is large, go big with one enormous piece or arrange smaller pieces in a gallery-style arrangement. Avoid spacing the photographs too far apart; 2 to 4 inches looks ideal in most cases.
Frame your balcony with plants
Balconies ought to be nicely adorned as well. You can decorate your piece of corner called a balcony with amazing plants. You can hang the small plants on the wall as well. It gives the balcony a beautiful look. Flowering plants are the simplest solution if you want a bright appearance in your garden. Nothing is more vibrant than the colours found in nature.

Hope, our home decor tips will be helpful to the reader to decorate their homes. If you are looking for your dream home in Mumbai, then check out our Ongoing Projects in Mumbai. We have pioneered this field for so many years. Come and visit our projects and book your home in Mumbai with PCPL. 
You may also Like