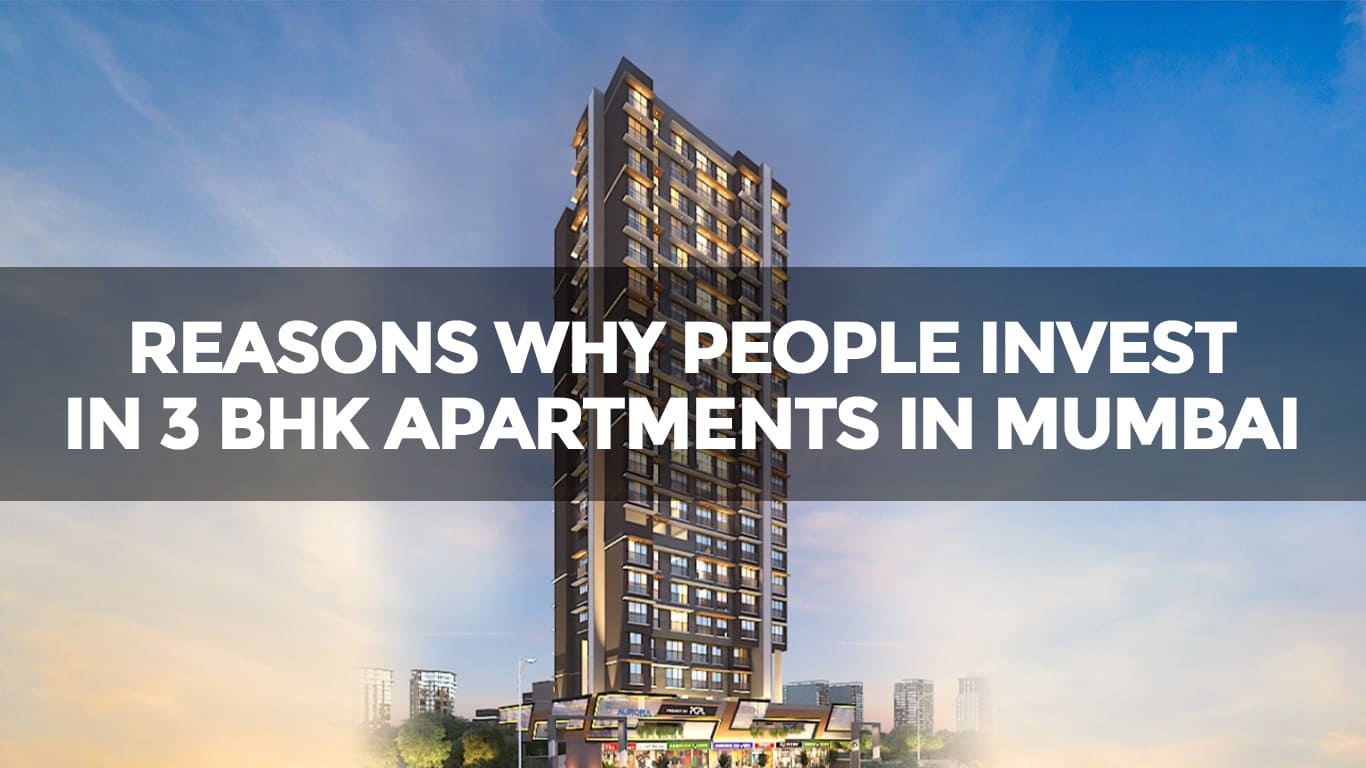 Reasons Why People are Investing in 3 BHK Apartments in Mumbai
Planning to buy flat in Mumbai that you can call your 'HOME'? If you said – Yes, then you might know that house hunting is a tedious job. With numerous residential projects coming up in Mumbai, picking the flat of your dream won't be that tough.
Mumbai, the financial capital of India caters to a fast-paced lifestyle. And in today's fast-paced life, when people get the opportunity to choose between a flat or a villa, they go with the former. The reasons might vary. So, let's see why more people prefer 3 BHK Apartments in Mumbai.
Space
Imagine living in a tightly packed flat. A 1 BHK or a 2 BHK flat offers very small spaces. Hence, if you are having more than 3 family members, you won't feel comfortable living within the tight space; leave out accommodating your furniture. So, living in such a tightly packed flat could be a nightmare for many. Hence, it's a good idea to go for 3 BHK flats that would offer enough space for leading a luxurious life.
So, one of the prominent reasons for buying 3 BHK flats is to ensure everyone gets their own space. A 3 BHK flat is spacious enough for a nuclear family with 3 or more members. Keeping in mind the future requirements, investing in 3 BHK Apartments would be a good idea. For instance, having a spare bedroom can be a good idea if you have frequently visiting guests. Or, if you live with your elder parents and children, 3 BHK Flats could be the best choice.
With 3 BHK Flats being more spacious one can experiment with the interior decoration trends. Keep in mind that if you want to own a house in Mumbai with more space, you should consider 3 BHK Flats. Even though it might be a bit hard to afford for many, if you can afford to pay for a 2 BHK Flat, you can do the same for a 3 BHK flat.
Amenities
No matter whether you are investing in a 2 BHK or a 3 BHK Flats in Mumbai, most of the residential projects in Mumbai will come with state-of-the-art amenities. One gets to enjoy different amenities all under one roof. Therefore, if someone wants to head toward the gym or the park, they don't have to leave their premises.
Room for Office
Since the COVID-19 pandemic, we saw a major shift in our lifestyle. Schools to colleges were held online. Even offices started their operations remotely. With this Work from Home culture becoming a trend, going for a 3 BHK flat could be a pretty good idea. One can use the spare room as their workspace for carrying out their job without any disturbance or any virtual team meetings without disturbances. Hence, it becomes easy to keep personal space and professional space different from each other.
Investment
Needless to say, real estate prices are witnessing an upward trend again. So, it's best to invest in that property right now. When buying flats in Mumbai, it's better to go with a reputed real estate company. You will get to invest in a flat in an upcoming area that provides scope for future growth and development. For instance, one can buy a flat in Mumbai's Malad area and put it up for rent as numerous companies coming up in this area.
House is going to be your permanent asset. So, investing in a 3 BHK flat is a convenient option keeping in mind future needs.