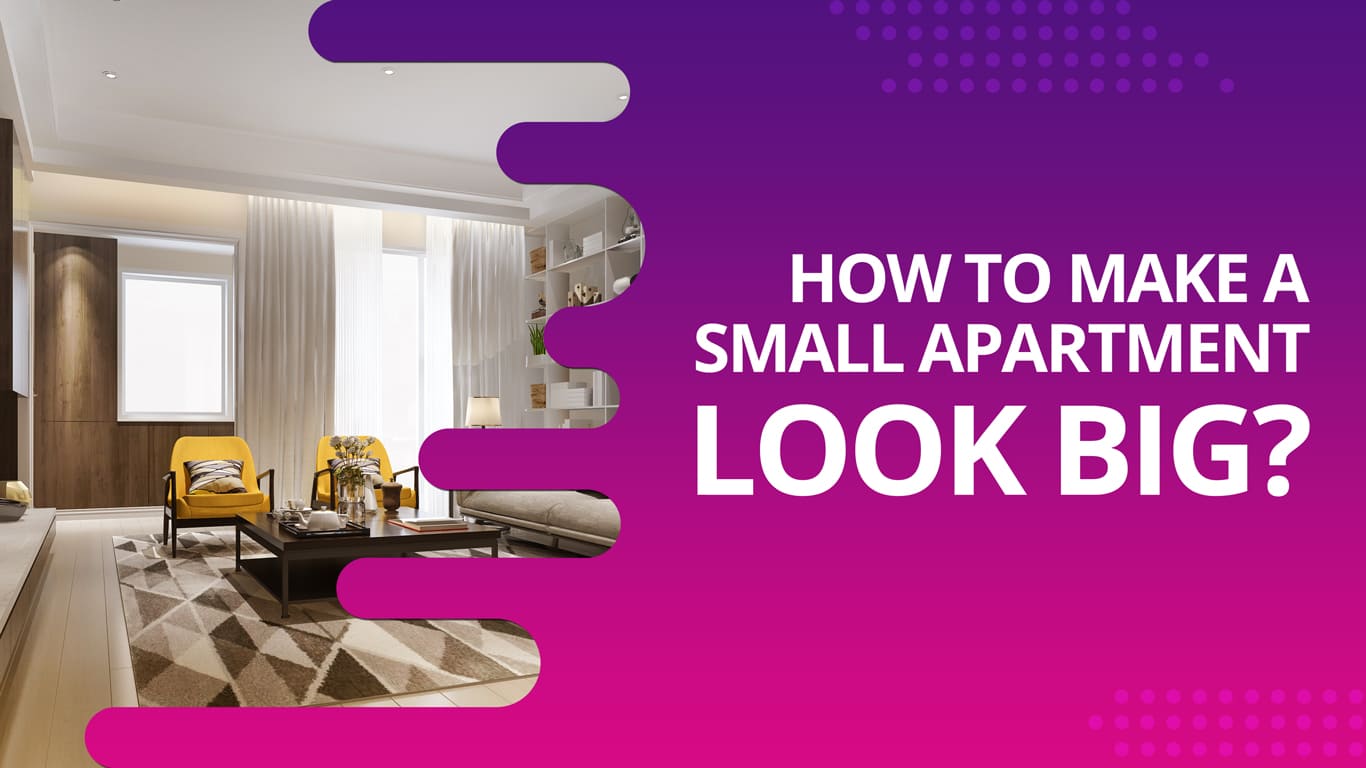 How To Make a Small Apartment Look Big?
Do you dream of decorating your small apartment very beautifully? You might say – Yes. But owing to the space crunch decorating the space as one dreamt of is not always possible. What could be the solution? One could either come up with some home decor hacks, or one would need to cut down their home decorating stuff so that even their small flat looks spacious and not crowded.
People Are Investing in Small Flats
We all know that Mumbai is a densely populated and costly city. So, buying a 3 BHK Flat in Mumbai could be tough for middle-class people. Hence, most people try to settle down for either 1 or 2 BHK Flats in Mumbai. Although a 1 or 2 BHK Flat won't be as spacious as a 3 BHK Flat, it can also be decorated smartly.
The truth is, decorating flats in Mumbai won't be as hard as one thinks it to be. For smaller apartments, every inch counts. So, one can easily create an illusion of more space with a few decorating hacks. If you want to know about these hacks, follow the remainder of this blog post.
Simple Furniture
For a home with small space, it's better to go with multifunctional furniture pieces. The trick is to find furniture that would be space-saving and also improve the decor of the room. For instance, the living room of any small flat in Mumbai can't be kept cramped with many furniture pieces. The right solution would be opting for a sofa-cum-bed and a foldable dining table for that small space. For instance, the foldable table can be stowed away when not in use. Or, when you have some guests, you can use the sofa cum bed as your bed.
Sleek TV Unit
To make a small living room look big, it's important to add modular TV units that would add some style while allowing storage. For instance, sleek TV units can come with open hanging shelves for keeping the remote or set-top box, etc. It can also come with a few closed cabinets for storing materials, like books, magazines, game boards, etc. Hence, modular TV units won't take much floor space. Also, there won't be any need to buy separate furniture for your small flat.
Modular Kitchen
If you want to create a super space-saving kitchen area for your flat, you should settle down for modular kitchen units. New-age flats in Mumbai come with limited kitchen space. To make use of every corner of your kitchen area, user-oriented modular kitchen designs must be picked. This would allow you to get countertop space on both sides of your kitchen, as well as cabinets for storing all kitchen stuff. Thus, making your small kitchen look extra spacious.
Neutral Shades
One can make your small apartment look bigger by using neutral color shades. Often colors like cream, and beige make small spaces look spacious and airy. So, it's better to settle down with softer shades.
Tall Drapes
Another way to make any small flat look spacious is to add light-colored tall drapes. As Mumbai homes come with narrow spaces, an illusion of a larger space can be created with light-colored curtains. Why? Curtains with lighter shades can make a room look airier and more spacious.
Ceiling Decoration
The decoration of a small room must be kept minimalistic. By decorating the ceiling with some false ceiling and with some suspended lights, one can make the space look very spacious.
Want to use the small space of your flat ideally? Take the help of some interior design experts for this job. They will guide you perfectly well so that your apartment gets designed beautifully and is space-saving.
You may also Like