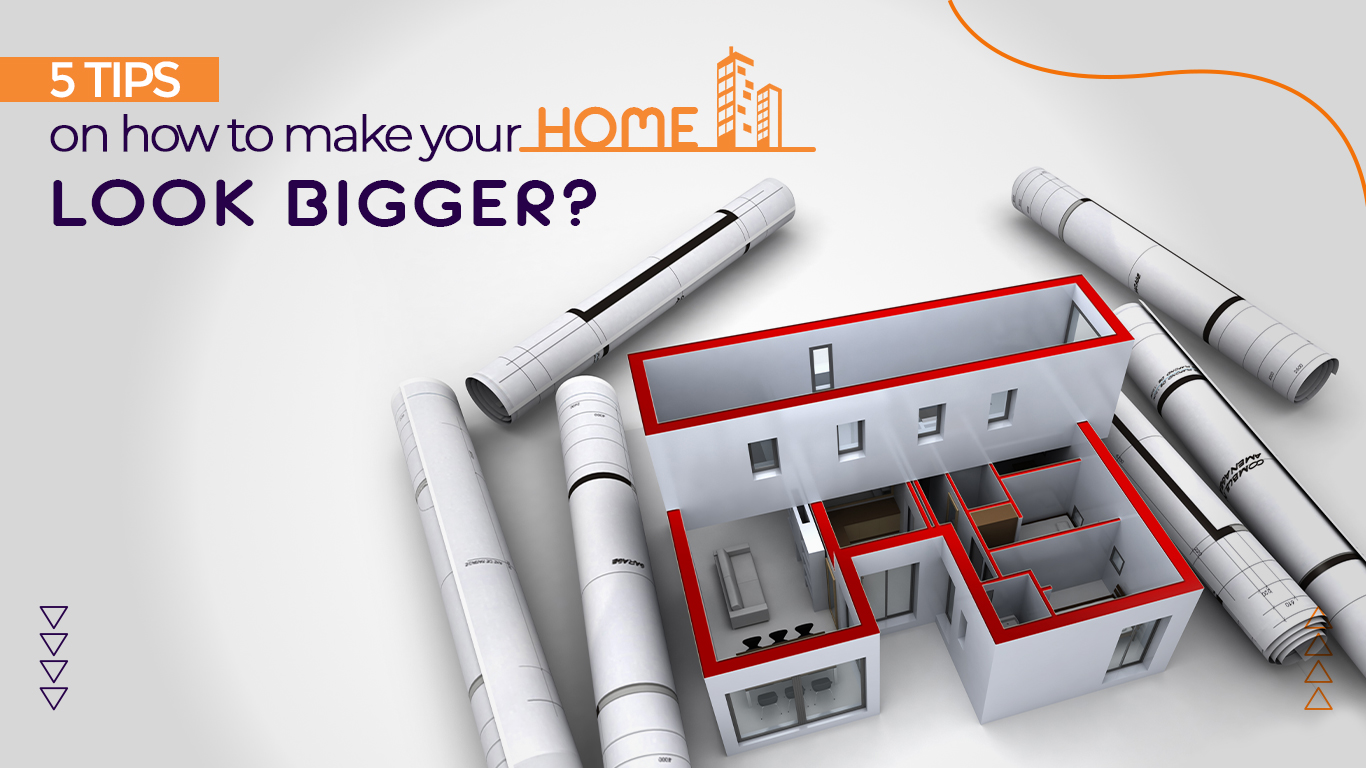 How to Make Your House Appear Bigger?
A one or two bedroom apartment is quite easy to maintain, even comfortable and charming to live in. However, creatively designing such a house could become a bit challenging owing to space crunch. The challenge of space adjustment could pose a major problem when using furniture and elements like sofa, chairs, tables, etc. in a less confined area. Therefore, one needs to be mindful while designing a 1 BHK flat. This blog will help you have a few refreshing ideas that can make your space look bigger.
Natural Lighting
Availability and the play of Natural Lighting is a mandate. There is no alternative to it. Try to place large windows in your living room of your 2 BHK flat that are positioned towards the direction of the sun. It instantly opens up any space and looks quite classy and modern.
Color them Neutral
One of the most important elements that need to be put in place is the color theme of your house. Dark colours are efficient for huge spaces or maybe a part of a wall but when considering a less spacious area, warm and neutral tones of beige, crème and white makes it appear spacious. Using such colours to create a visual illusion is the best play that opens up the room. Adding complementary decor elements like an abstract art piece gives an upbeat and organized hub.
Cut the Clutter
We mean it! Fitting too many things inside your room could be a hell of a task. Unless, you use a wall to wall book and item cases. Any wall-to-wall furniture will add up a design element to your space at the same time will be helpful for the space restriction. You can stack up an entire wall right from the top of your ceilings to the floor making it quite useful for storage. Start stacking the daily utilities in the lower portion while the upper space can hold all your books safe. Small furniture adds details to huge spaces while vice versa for confined areas. Using a décor item will make your room messy and does not add up to the vibe. Instead, get a huge piece of furniture that will fit all your worries in one and de-clutter your space!
Use Mirrors
We all are well aware of mirror reflections and are completely in love with it. While curetting a home, mirrors play the most important part. Keeping mirrors in strategic parts of your wall will expand the visual reality of your space. Light and mirror plays really well and are the major element in increasing the visual perspective of a room.
ART works and Space
For a one-bedroom apartment in PCPL, you shouldn't view artworks as a waste of money. Give some space to your thoughts and in placing your furniture. Align it angelically to give the space a curvature. Hanging and abstract artworks, paintings are always the first choice for a minimalist living. Adding a statement design piece in your house will add some drama and hints for a luxurious lifestyle. Giving space for the right art can make any corner look bigger and brighter.