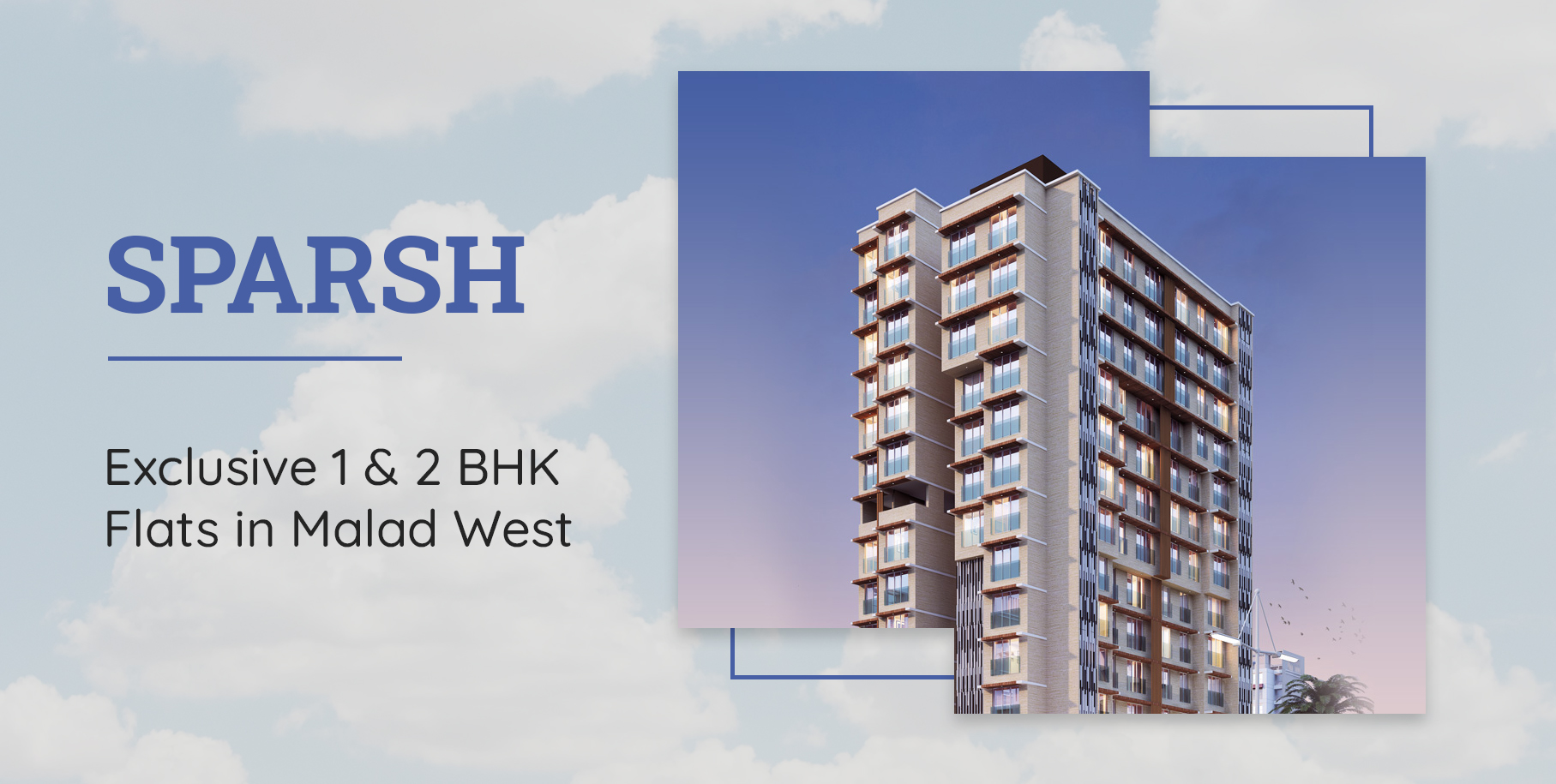 Sparsh – Exclusive 1 & 2 BHK Flats in Malad West
Mumbai, popularly known as the financial capital of India offers a lot of investment options to real estate developers. Investors are now looking forward to invest in the suburbs for new redevelopment projects in Mumbai. The reason is simple. Upper-middle-class people are demanding affordable and luxurious housing options. The suburbs provide plenty of opportunities for affordable residential projects in Mumbai.
One such suburb witnessing a steep rise in the number of redevelopment projects in Malad. Malad, a part of Western Suburbs is slightly populated. Apart from the residential complexes, a wide number of commercial complexes and entertainment hubs are coming up within its vicinity.
Hence, Malad is becoming a top choice for real estate developers. One such real estate property worth investing in Malad is Sparsh.
Sparsh
Sparsh, one of the premier residential projects in Malad West, Mumbai, promises to offer luxurious apartments with world-class amenities. Considered as one of the new redevelopment projects in Mumbai, it perfectly meets the definition of fine living.
It is an important residential project in Malad (West), Mumbai from the PCPL Group. This project is going to offer buyers with exclusive 1 and 2 BHK Flats in Malad West. The flats have been beautifully designed so that it makes full use of the available space. The carpet area ranges between 438 square feet for 1BHK Flats and 621- 649 square feet for 2 BHK Flats.
Well, when the question of fine living pops up, proper planning is essential. This project has been beautifully planned so that it meets the basic requirement of the buyers. The flats are beautifully designed and it offers a new level of elegance.
Nowadays, buyers are looking for 1BHK or 2BHK Flats with modern amenities available. Sparsh promises to offer all the modern amenities that one might be looking for. If you are looking for a property that would provide a lifetime of extravagance, your search can end with Sparsh. This affordable residential project provides unparalleled luxury that one could even think of.
Location
Well, Malad is fast emerging as a residential hub and also a commercial district. In the skyline of this suburb, affordable new redevelopment projects in Mumbai are coming up. One such project is Sparsh.
Most people come to visit Malad as it used to house Bombay Talkies, the first film company of Mumbai. Another reason for Malad's popularity is the oldest commerce college, the Prahladrai Dalmia Lions College of Commerce and Economics. So won't it be interesting if you own an apartment in Malad (West)?
If you are looking for residential projects in Mumbai, you can consider investing in Sparsh – which offers exclusive 1 and 2 BHK Flats in Malad West. Get ready to create beautiful memories and cherish every moment after you move into these beautiful flats. Due to the prime location of Sparsh, it offers easy access to schools, colleges, industrial sector, railway stations, and the airport.
Modern Amenities
To meet the demand of fine living, Sparsh offers a wide range of amenities. The amenities include:
Terrace Garden: Feel close to nature with this terrace garden. Nature lovers would get a separate space on the terrace for gardening.
Rainwater Harvesting: Sparsh is proud to offer its residents with rainwater harvesting. This would help residents to save a lot of water.
Fitness Centre: Health freaks can head to the all-inclusive fitness centre located within this property. Hitting the gym at any point of time is now made possible.
Others: Other amenities include tower parking; children play area; elevator and more.
Now, pamper yourself with luxurious living and all convenience that you were looking for. Get a beautiful luxurious home today.
Contact PCPL Now.
Pranav Construction holds the repute to offer luxurious living spaces to middle-class people at affordable pricing.