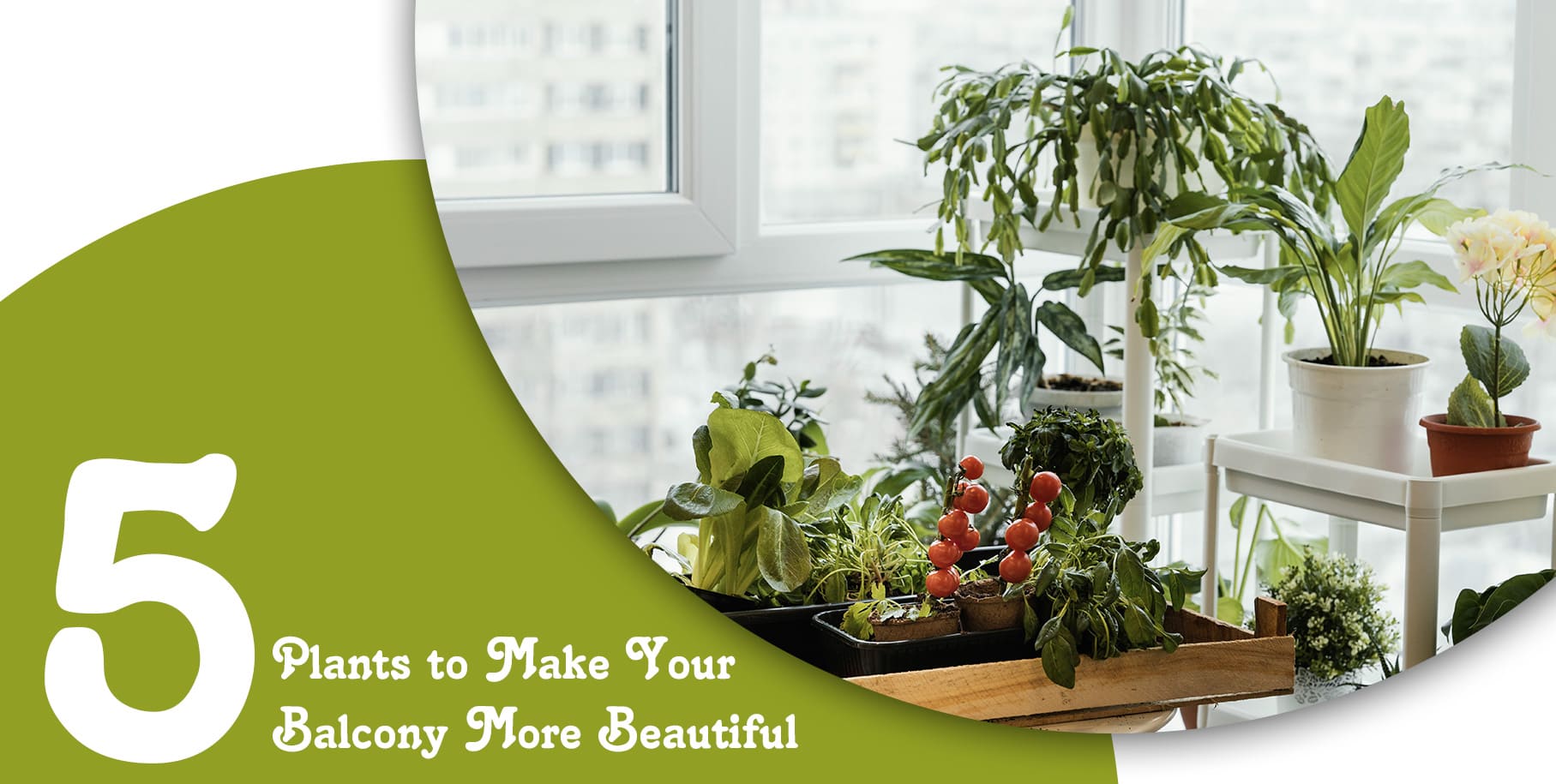 5 Plants to Make Your Balcony More Beautiful
It doesn't matter whether you live on the 1st floor or the 20th floor, you can easily come up with a garden in Balcony in Flats in Mumbai. Why do we need such a garden?
Well, in this modern age, we have forgotten about the therapeutic effect of greenery. A touch of greenery is soothing to the eyes and the senses. Since we are living in a concrete jungle, staying close to mother nature or witnessing a bit of greenery is next to impossible. So having a few plants in your balcony would help you to connect with nature. It can also become a place for you to sit down, relax or spend leisure time with your close one.
Small or Big Balconies in Flats
Whether you have a small balcony or a big one, you can easily make the boring corner of your balcony the most interesting one. How? Simply by growing different types of plants. But you can't just go ahead and pick any plant randomly. You need to keep in mind that some balconies get a lot of sunshine; whereas, some are in the shade. Depending on the amount of sun your balcony receives, your plants must be chosen.
Let's take a look at the plants that require a lot of sunrays or little amount of sun to grow.
Pot Plants for Balcony in Flats
Pot plants kept on a stand or shelf of the balcony helps to come up with a lot of space. This means one can grow as many plants as they want. The pots can be arranged horizontally or vertically to give a touch of color and greenery.
Marigolds:
Marigold plants are bright in color and are characterized by their colored florets crowning the stem along with dark, long, and narrow leaves. It comes in shades of yellow, maroon, and orange. They are low-maintenance plants. Hence, you can go for that easily.
Money Plant:
Money plant or better be said an evergreen perennial vine is one of the best plants to have on your balcony. One species of money plant which you can try out is Pothos. It comes with green heart-shaped leaves and takes the support of aerial roots to climb up. This plant removes toxins from the air and can easily adjust to the weather changes of our country.
Climbing Plants for Balcony in Flats
Do you want to transform the plain walls of your balcony into a colorful ones? You can easily do that with some climbing plants.
Planning to use some climbing plants, such as Bougainvillea, Star Jasmine, or Blue Morning Glory, Mandevilla, to decorate your balcony? Keep in mind that you will need a structure to support the climbers. Usually, bent steel rods or trellis would do the job. The best thing about these plants is that they don't need much maintenance. All climbers need to be shielded from the hot scorching sun.
Mandevilla:
It is a popular climber plant that requires a trellis to grow upright. This tropical climber comes in pink and red shades. You need to protect this climber from the direct rays of the sun.
Herbs for Balcony
In case you are looking for low-maintenance plants for your balcony, you can go for herbs. However, when you are going for herbs, keep in mind the amount of sun rays your balcony receives.
Basil or Sage or Cilantro:
If you get a good amount of sun rays, you should go for basil or sage or rosemary. If your balcony is slightly shaded, opt for chives or cilantro. Any herbs you plant would come in handy for the kitchen.
Basket Plants for Balcony
If you are having hanging planters you can easily go for plants like Lobelia or Fuchsia. They require low maintenance; yet, they are very colorful.
Lobelia:
This plant likes morning sun as well as afternoon shade. So you will need to place them in such a way that it gets both. The blue or purple color spurting out from the basket is pretty amazing.
Apartment dwellers might not be able to afford a terrace garden to grow plants. However, a balcony can solve the problem completely. One can spruce up and transform their balcony into a cute garden.
Get More Advice for Balcony Garden and Flats with Balcony in Mumbai by PCPL.