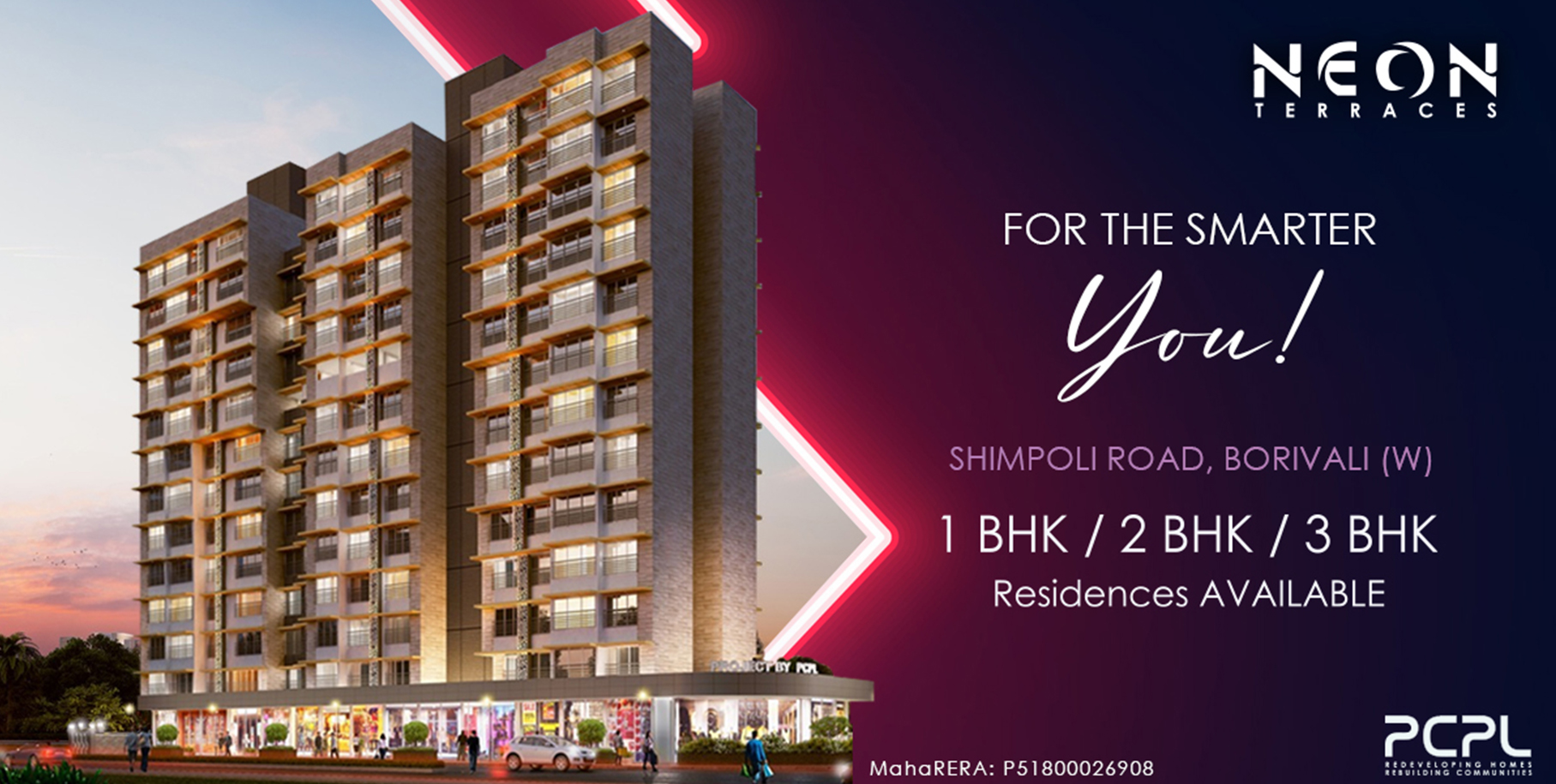 Neon Terraces – Exclusive 1 and 2 BHK Flats in Borivali West
Neon Terraces is one of the top-notch Ongoing Residential Project in Mumbai located in Borivali West. This residential complex redefines comfortable living. These smart and well-planned 1 and 2 BHK Flats in Borivali West come with all the latest amenities that anyone can imagine. Check the following section of this article to know more about it.
Location
Neon Terraces – Flats in Mumbai is located at the heart of Borivali West. The smartly designed redeveloped property is very close to the newly constructed Metro line. You can walk to the nearest metro station, which is only one kilometer away from the property.
The railway station is also significantly close to the 2 BHK Flats in Borivali West. The famous Kasturba Garden is only about half a kilometer away from our property. You can visit the Kasturba garden for a pleasant morning or evening walk easily.
Apart from that, Flats in Mumbai are very close to various banks, shopping complexes, and schools. So, your kids do not have to travel for hours to go to their schools. Being situated in the prime location, Neon Terraces is also very close to several hospitals. So, for any medical emergencies, you can get almost immediate medical help.
Amenities
High-end amenities separate any good 2 BHK Flats in Borivali West from the others. That is why PCPL is determined to offer the best possible amenities to the residents of Neon Terraces.
Parking: Parking often becomes a major issue in the Ongoing Residential Project in Mumbai. Sensing that, the builders of PCPL have made sure that neon terraces provide adequate parking space to the resident.
Rooftop Banquet Area: Neon Terraces comes with a rooftop banquet that residents can use for hosting parties and other functions.
App-Based Security System: Neon Terraces offers a tight security system all around the building. The app-based security system will notify the residents if anything untoward takes place.
Benefits of Booking a Flat in Neon Terraces
The benefits of living in 1 BHK Flats in Borivali West, like Neon Terraces, are hard to overlook. By choosing this property, you will be saying yes to clean and healthy surroundings. The plethora of greenery will soothe your soul and give you a break from the daily dose of pollution. We hope that all the above points have helped you to get an in-depth understanding of the benefits that you can get in Neon Terraces. If you have any queries, get in touch with the professionals of PCPL to understand why it is a safer and better option.